One of the frustrations during DIY electronics is the finding most accurate measuring instrument. If I want to inform you of a great new Digital Multimeter, such as the MESTEK DM100C Smart Digital Multimeter, I can post photos to demonstrate exactly how much advance features tech is this Smart Digital Multimeter.
Like the Digital Multimeter before it, the MESTEK DM100 sells for close to half the price of competing Digital Multimeter in its class.
A great new display can also be photographed to show off its strengths of 10000 counts with analog scale.
 DM100C Digital Multimeter
DM100C Digital Multimeter costs less than $30, and besides the standard multimeter functions, it also featured with Smart double core, digital/analog dual display, manual/auto range, variable frequency voltage, fuse alarm, T-RMS,Insert error alarm, frequency test, temperature measurement, detection voltage, intelligent recognition, fire line identification, AC frequency measurement, black and white reverse, lighting function, data retention, anti-burn protection.
Where to Buy?
The MESTEK Multimeter  is available in many Chinese online stores. Its price varies, but you can get it for approximately $28 in most stores.
My personal favrate for this product is GearBest Fast Shipping + Low Price + Wolrdwide Delivery
Applications of DM100
This TRMS digital multimeter is most suitable for DIY Electronics and electrical work where accuracy matters such as
DIY electronics Projects
Electrical Testing
Automotive Repairing
Engineering Students
Main Features of DM100
Intelligent dual core measurement data processing
High speed measurment of voltage Registance and capacitance
10000 count, analog bar plus digital double display
Manual range and automatic range design
Variable Frequency Voltage (VFC) measurement function
Soft rubber sheath, anti-drop protection
The fuse is disconnected from the automatic alarm function
1KHz true RMS measurement
The pen is inserted into the anti-burn alarm function
NCV : Non-contact Voltage Detection
Automatic identification of diode & on-off files
 LIVE single-table pen recognition fire line
AC voltage and current frequency test
Temperature file can measure ambient temperature
99.9mF large capacity value range
With probe -20 – 1000 °C temperature measurement
Power supply: 2 x AA battery ( not included )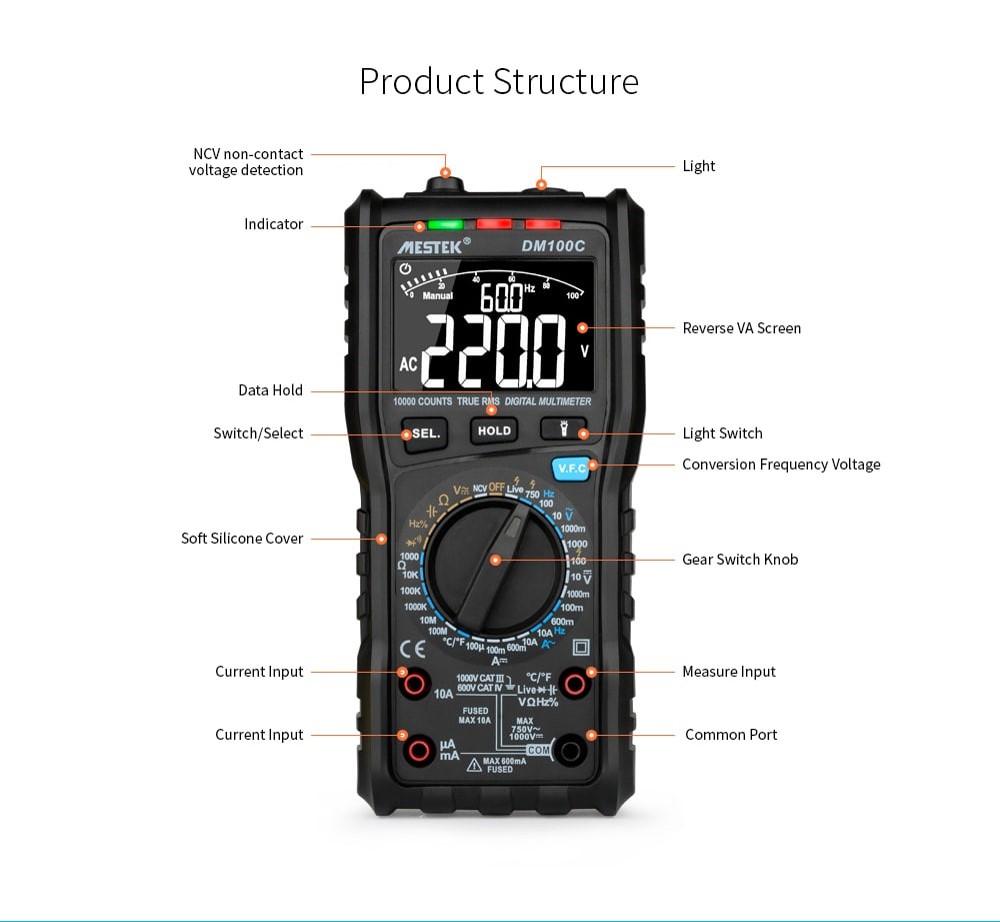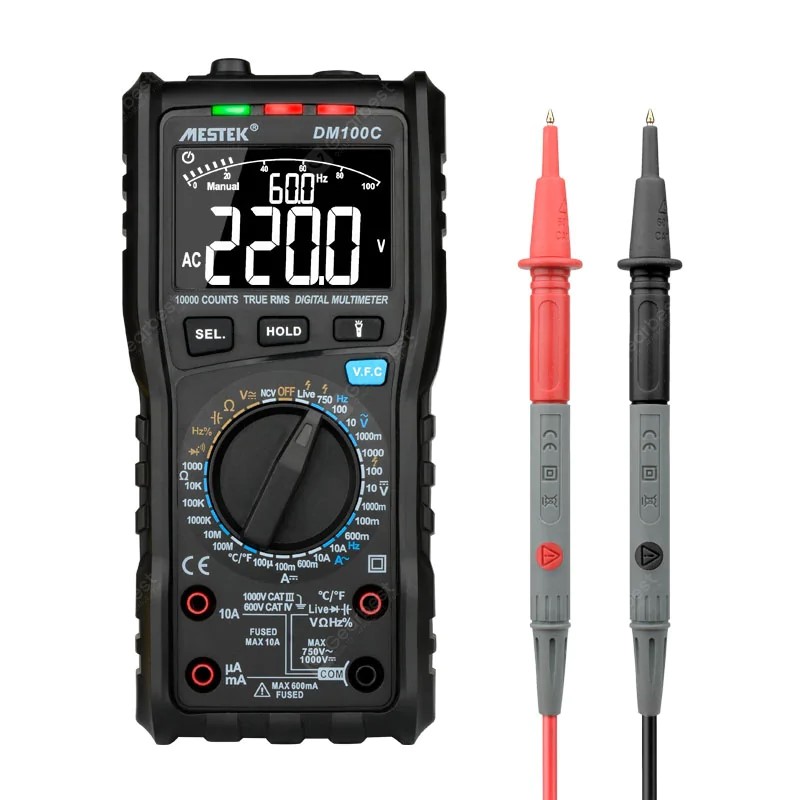 Misoperation mis-insert anti-burn alarm functionMisoperation mis-insert anti-burn alarm function
It is easy to forget that the wrong meter is inserted in the current file. The DM100 will prompt an error on the screen and beep the alarm until the test pen is inserted into the position that will not cause the multimeter to be fired, so as to prevent the burn as a priority.
Current gear protection is more professional and effective
The fast-dissolving professional ceramic fuse tube is built in the 600mA/10A gear. After the fuse is blown, the DM100 will prompt FUSE on the screen and beep alarm, so that the user can intuitively find the status of the multimeter current file and improve the maintenance test. Work efficiency.
When the voltage input terminal and the common terminal are connected to a voltage of no more than 250V, the DM100C fully automatic full-range gear protection, the mains 220V can reach the full gear anti-burn
It's an excellent choice if you want a high-quality Digital Multimeter without spending too much budget.
*disadvantages of this multimeter is it doesn't come with the μA current measurment range.
More great stories from InnovatorsGuru