TF02 Lidar
TF02 Lidar is a newly developed product based on the widespread application experience of TF01 to use in Arduino projects and Pixhawk flight controller. TF02 comes with 0.4-22m range at 100Hz. This LidDAR specially designed to use for LidDAR Single-Point Laser Radar Sensor for RC Drone, Obstacle Avoidance and Altitude Hold.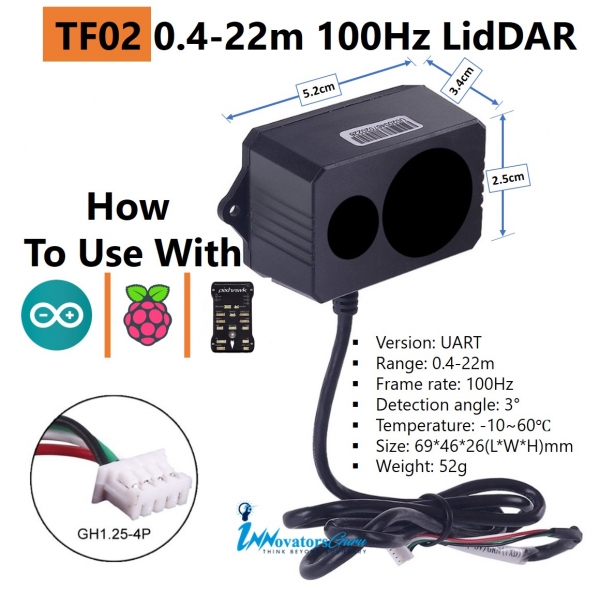 Where to Buy?
This sensor is easily available in best online gambling sites. TB02 price varies as per brands, but you can get it for approximately $150 in most Websites.
Check Price on Aliexpress | Amazon 
My personal favrate for this product is  Aliexpress  Low Price + Wolrdwide Delivery
About TF02 Lidar 
TF02 highly optimizes the energy system, product structure, fusion algorithm, and shell material so as to achieve a 22-meter-long range and a more stable ranging performance. Combining an innovative production process and multiple software and hardware optimizations, Benewake upgrades LiDAR truly to a consumer level and makes it applicable in numerous fields.
On the basis of many advantages of the last generation, it has been significantly improved and optimized in its energy system, product structure and algorithm, so that it can reach the range up to 22meters and a more stable ranging performance. Its enclosure is made from high-strength anticorrosive materials, which has improved its adaptability to outdoor severe environment. At the same time, due to innovative production technology and massive software and hardware optimization, the LiDAR has really reached the consumption level and been successfully applied to UAV, intelligent traffic, material level monitoring, intelligent parking lots and relevant other fields.
TF02 uses the phase method to realize its ranging function based on TOF (Time-of-Flight), namely the time-of-flight principle. Specifically, TF02 gives out modulated near infrared light, which will be reflected in case of obstacles; its sensor can calculate the phase difference produced by emission and reflection of the modulated infrared light and then convert such a difference into the distance away from the target object, so as to generate the depth information. As shown in the figure.
Applications
Drone altitude holding and terrain following
Machine control and safety sensors
Distance measuring instrument
Features of TB02
High sensitivity, and able to measure as far as 22 meters
High speed measurement with a maximum sampling frequency of 100Hz
Excellent anti-ambient light usability (operable under 100kLux ambient light)
Protection grade reaches IP65
Anti-corrosive against pesticide
Small in size and light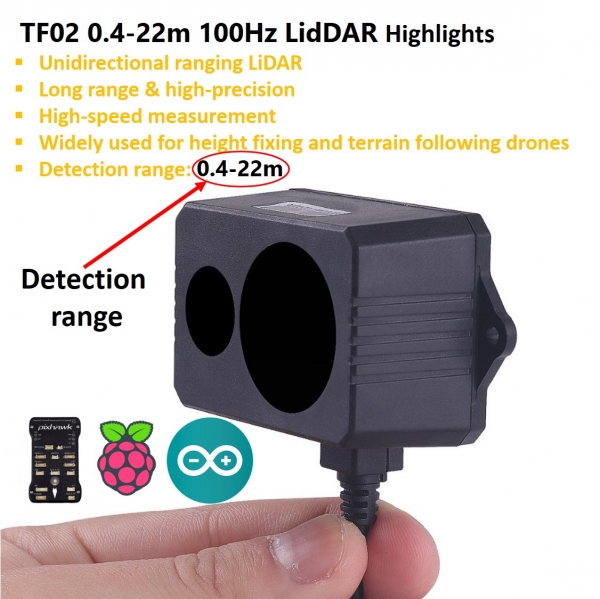 Specifications of TB02
| Specifications | Discriptions |
| --- | --- |
| Detection range | 0.4-22m |
| Frame rate | 100Hz |
| Detection angle | 3° |
| Size | 69mm*46mm*26mm (L*W*H) |
| Weight | 52g |
| Interface | UART |
| Power supply | 5VDC <200ma |
| Light resistance | less than 100 kLux |
| Precision | 6 cm (<5m);2% (5 ~ 22 m) |
TF02  Datasheet and User Guide
Download datasheet, user guide, software tool for better understanding of details specification, features, dimensions, mounting guidelines etc.
TBo2 Lidar Arduino Code and Connection Diagram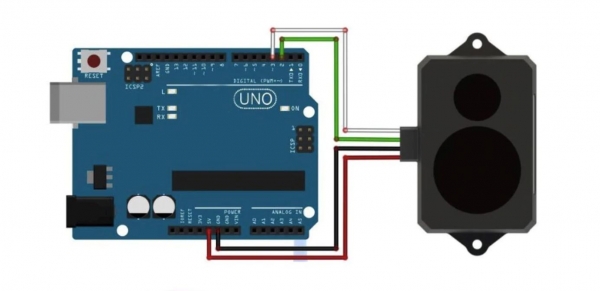 For this sensor, Arduino library is not requred. Example Arduino code for using the TB02 with an Arduino Mega.
TBo2 Lidar

Pixhawk

 Connection Diagram